Deddington Castle was in the large village of Deddington 6 miles south of Banbury, Oxfordshire.
It was built on a Saxon site as a motte and bailey castle in the 11th century[1] by Bishop Odo of Bayeux[2], the half brother of William the Conqueror. William de Chesney, Lord of Deddington, held the castle in the mid 12th century but in the late twelfth century it was seized by the Crown during the struggle between King Richard and his brother Prince John. By this time the outer bailey was defended by a gatehouse and curtain wall and the Norman motte had been levelled to make room for a range of buildings. Descendants of the Chesneys, the Dive family, regained possession of the castle in the thirteenth century but by the end of that century it was partially demolished and by 1310 there seems to have been little left. The site of the castle, together with its park and meadows, was sold to the canons of Windsor in 1364.
Now only earthworks remain and it is administered by English Heritage.
Excavations in 1949 and 1978 revealed castle foundations in good condition[3].
References
Edit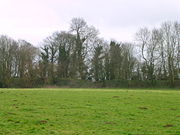 External links
Edit